Mobile Self Storage Rates
How it works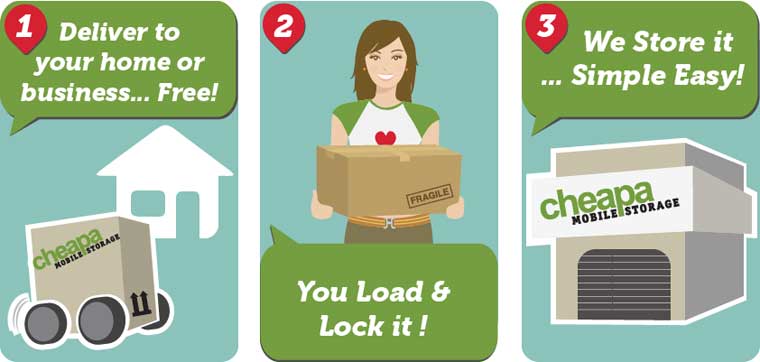 Rates
Available unit sizes
Note: All images are for illustrative purposes only and have been altered to show full space available. Exact shapes, dimensions and door configurations vary. For more information please contact us.
Need more space?
We can deliver up to three units to you at the same time. You'll get the extra storage space you need and save over our normal rates.
We can do other unit combinations at similar prices. Please contact us us for a quote.
Our mobile storage solution is the perfect choice for long term storage when you don't need regular access. We bring the storage unit to you, you load and lock it, and we store it safely and securely. We are completely transparent. Unlike many other storage companies all our prices are here for you to see without the need to call or email for a quote. The rates you see below are all you pay for long term storage with Cheapa Mobile Storage. It's simple and easy!
We service the entire Sydney metropolitan area, The Blue Mountains, Lithgow, Bathurst and Orange.
What you need to know
Cheapa Self Storage's mobile/long term storage is designed for customers who want to put their belongings in safe and secure storage for 6 months or longer and do not need regular access. This option is particularly suitable for storing archives or for someone who is travelling for an extended time and/or is on a strict budget and requires cheap long term storage. This service can save you on removalist costs from $500 to $2000. Access to your Mobile/Long Term storage box within the first 6 months period would atract a re-delivery fee once it is in our secure storage facility. After the first 6 months you can request your Mobile Storage Unit to be returned (free of charge) to your address (Sydney metropolitan) to unload or you are able to access your unit at our Chatswood facility to add/remove and place back in storage until you require again. There is a free delivery limit after the first 6 months of one delivery per 6 month period thereafter. If you require regular access to your belongings, our self storage units would be a more suitable and cost effective option.
Delivery/Redelivery
Delivery of mobile/long term storage units must be booked in advance. You have up to 3 hours to load into your mobile/long term storage unit. If you require a longer period to load, you have the flexibility of loading in your own time over a 2 week period at our Chatswood facility. If you have over 15m3 to store this time can be extended.
If you need access to your unit to add or remove items, you simply contact us and your unit will be ready for you at our Chatswood facility the following week.
If you require your unit to be returned within the first 6 months, a delivery charge will apply for delivery and redelivery.
Our mobile storage units come with 1-2 padded blankets depending on the unit size for protecting your goods in tranist.
You place your own lock on your mobile storage unit and keep the key, so you are the only one that can access.